When selfies land you in hot water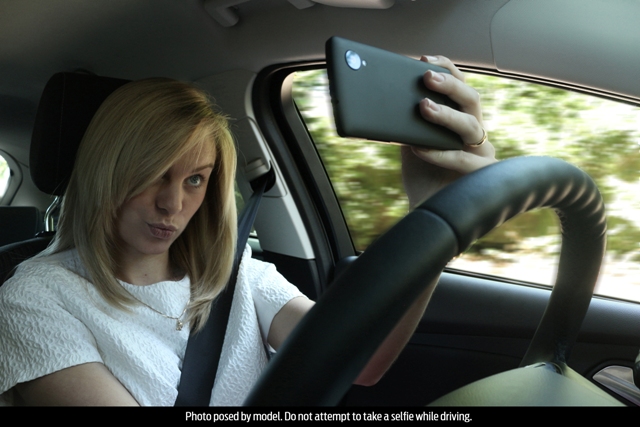 Snapping a selfie has fast become an accepted part of everyday life delays on the tube? Sad selfie. Office bestie brings your morning coffee? Smiley selfie. After work drinks on a Friday? Super-smiley selfie.
But what about steering wheel selfie, or 70mph selfie or singing along to the radio on a dual carriage way selfie? Hmm, they probably don't seem like such a good idea.
Surprisingly, there are some people out there who are so attached to their mobiles they're willing to take the ultimate risk when they take to the road.
In October of last year, Sussex Police released a selfie-style video filmed by two young men speeding to their deaths. The video was released with the consent of 20-year-old Kyle Careford and 21-year-old Michael Owen's parents to highlight the dangers of taking risks on the road.
Though an extreme case and one which involved not only use of a mobile phone at the wheel but also driving under the influence of drugs and driving without a licence, it shows just how dangerous driving can be if you don't take it seriously.
Points and penalties
Aside from being extremely risky it can also land you in a whole heap of trouble. If you're caught speeding you can get three penalty points on your licence and a £100 fine. You could potentially end up in court, be disqualified from driving or face a £1,000 fine.
For new drivers the price is even higher if you get six or more penalty points within two years of passing your test you'll lose your licence all together.
Not getting the message
But it seems young people aren't getting the message, a 2014 survey by Ford revealed young British drivers were more likely than their European counterparts to take a photo at the wheel.
The survey showed 33% of Brits admitted they had taken a photo behind the wheel, for German drivers it was 28%, 28% in France, 27% in Romania, 26% in Italy and 18% in Spain.
Ford surveyed 7,000, 18-24-year-old smart phone users across Europe, and found a quarter admitted to posting on social media or scrolling through social channels while driving. Young males were revealed as the most likely to take the risk.
Mobile distractions
In the Annual Survey of Motorists 2015, conducted by our friends at Admiral, 10% of respondents cited mobile phones as something which had distracted them while they were driving, while 3% said social media in particular was a distraction.
Of the 2,000 people asked, 15% confessed to texting while driving, 10% looked at social media, 11% had made a phone call and nearly 4% had taken a photo.
While 72% of respondents said they had never done any of these things, the overall percentage who abstains from using their phone at the wheel has actually dropped from 73% in 2014.
The risks of snapping a speedy selfie
Ford found taking a selfie while driving can distract a driver for 14 seconds, if they check social media that could be a distraction of up to 20 seconds - long enough, at 60mph, to travel the length of five football pitches.
"Taking a selfie has, for many young people, quickly become an integral part of everyday life, but it's the last thing you should be doing behind the wheel of a car," said Ford's Jim Graham.
"It is deeply worrying that so many young drivers admit to taking a photo while driving and we will be doing all we can to highlight the potential dangers through driver education."
Sadly, Kyle Careford and Michael Owen are just two of a number of young people whose lives have been cut short for the sake of a high-speed selfie.
If you have to let the world know you've arrived then make sure you do it when you're safely parked up and out of the car!